At Tankeros, we carry out the installation and maintenance of water tanks and water reserve vessels for fire protection systems, potable water, wastewater, and other types of water and liquids.
WATER STORAGE TANKS FOR FIRE PROTECTION
FIRE FIGHTING WATER TANKS
Firefighting tanks are one of the main weapons to fight fire in emergency situations. They are extremely useful to put out fires during the first moments after their appearance, and are vital to prevent fires from growing and spreading.
Our firefighting tanks are made from the best materials and have a big enough capacity to extinguish during an extended amount of time. Whether in a rural, urban, or industrial setting, these water reserve tanks are indispensable as a safety device.
In our country, unfortunately, fires are a scourge – especially in hot times. If you are interested in installing one of our firefighting tanks, contact us and we will provide you with the necessary information with no obligation to buy on your part.
Safeguarding a resource as important as water is vital to our society. For this reason, at Tankeros we feel it is greatly important to protect wastewater treatment systems by installing our wastewater tanks – tanks which have the best guarantees and the most suitable materials.
Whether in an industrial setting or talking about the hydrological resources of a municipality, our wastewater tanks are made of the highest quality stainless steel.
In this specific type of tank, it is possible to differentiate between two categories: homogenization tanks and clarifiers.
Do not hesitate to request information with no obligation to buy in order to develop a full project for this tank type's installation.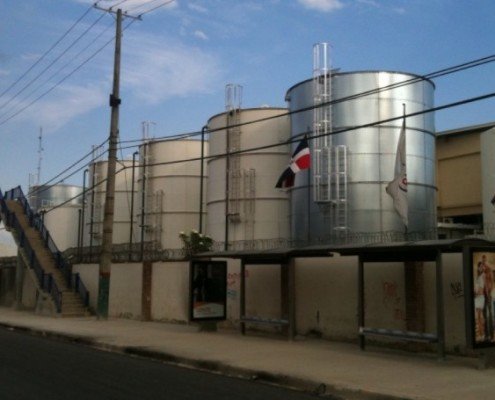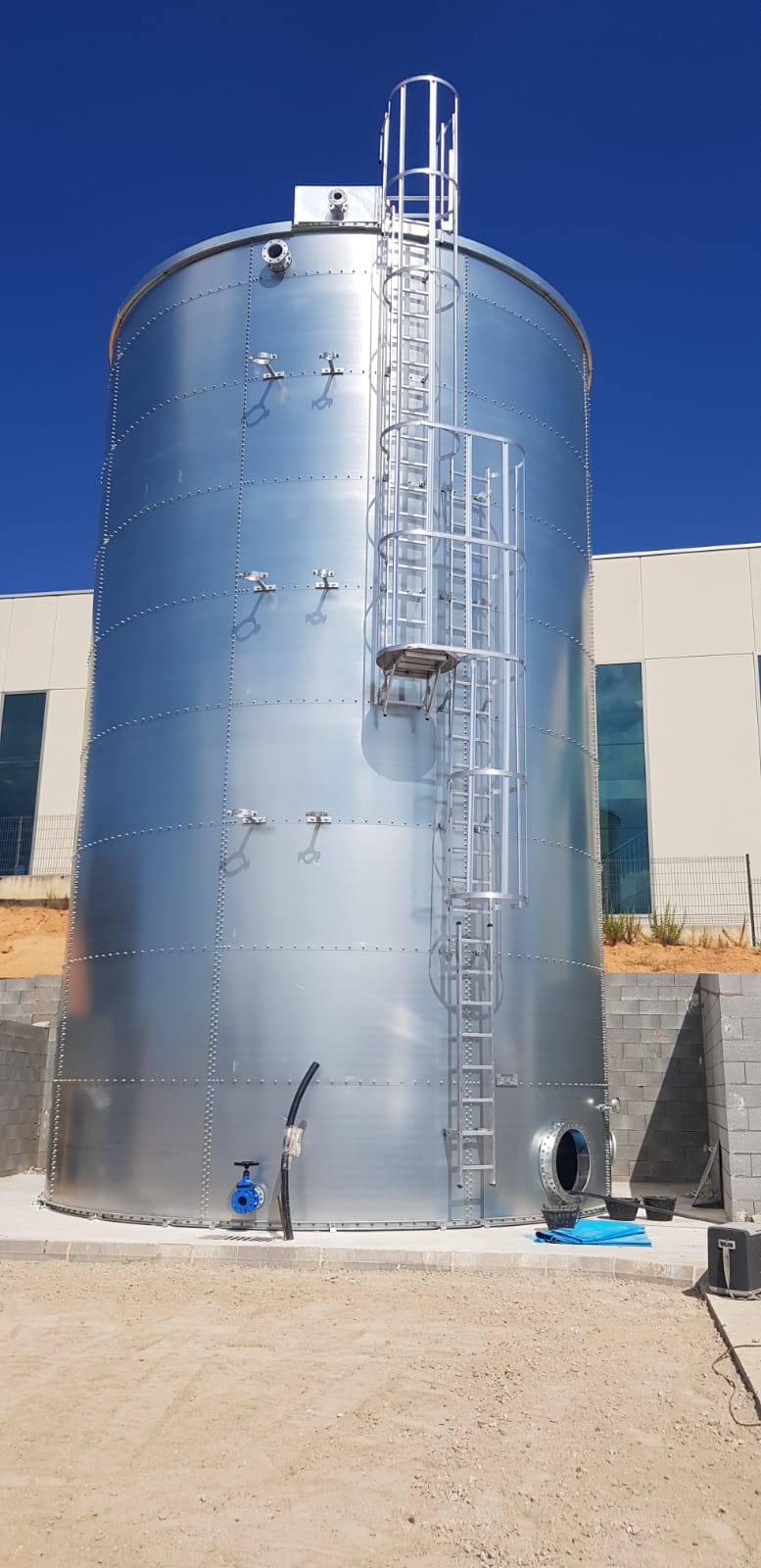 POTABLE WATER STORAGE TANKS
We manufacture, install, and maintain tanks for potable water. These are installations to store hydrological resources that can be consumed by humans. Whether in industrial complexes or other types of habitats, our potable water storage tanks will provide you with a basic need.
In addition, our potable water tanks promote savings and efficiency in terms of water use. They are also especially good and helpful for areas with water supply difficulties.
We use top-notch materials when manufacturing our drinking water tanks to guarantee that the liquid inside is always in perfect condition. These are structures that are easy to clean and maintain.
The tanks are designed to prevent waste and impurities from falling inside and contaminating the water. Contact us to request more information.
AGRICULTURE WATER STORAGE TANKS
At Tankeros, we also have products and services for the primary sector. In fact, we manufacture irrigation water tanks for agricultural applications. These are structures that are highly useful in rural areas, without a doubt, as they help the sector to circumvent the scarcity of water resources.
These agricultural tanks can also be used for mixes with fertilization products to enhance irrigation.
Likewise, these tanks for irrigation can be used to feed and clean animals.
Ask for information about our irrigation water vessels and our professionals will be more than happy to help you.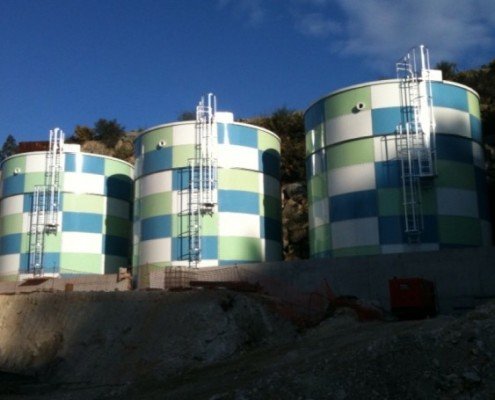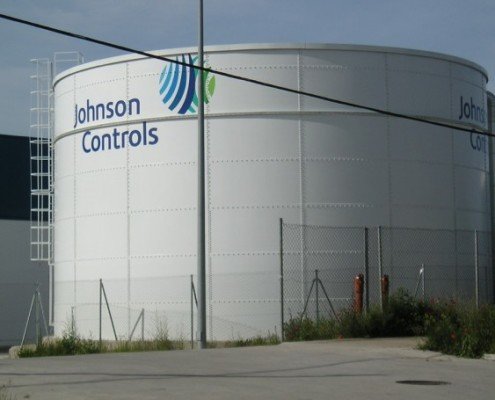 INDUSTRIAL TANKS FOR THE FOOD, ENERGY, AND SERVICES SECTORS
We manufacture, install, and maintain industrial tanks. We are talking specifically about industrial tanks for water used in industrial processes – tanks which are totally necessary to guarantee the presence of hydrological resources during the production phase.
That is to say, our tanks for water to be used in industrial processes are needed so that said water is always available for use during the production phrases.
Thus, Tankeros and its industrial tanks help companies in the secondary sector to optimize their facilities with the best quality and the most demanding certifications.
If you have any questions or queries about this service, contact us and we will help you.
OTHERS: COMPATIBLE LIQUID STORAGE TANKS
In terms of storage tanks, we have decades of experience and an excellent track record both nationally and internationally. Our clients are given preliminary reports that study their installation, the materials used, the design, and the accessories.
Whether to install water storage tanks or liquid storage tanks, Tankeros offers maximum implication from the project's start to finish.
Water is the most essential element that exists. And our mission is to provide your facilities with the necessary structures so that water is always at your disposal. Whether for human consumption or for use in a working environment.
Contact us and we will inform you in detail on everything related to the installation storage tanks.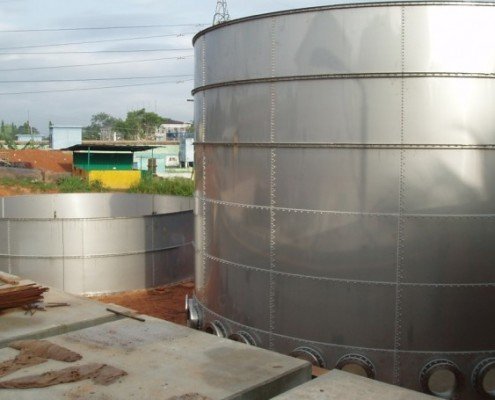 YOU MAY ALSO KNOW OUR PRODUCTS AS...